Party late into the night as SLGS and AWMS come together. Click to get TICKETS now!
AnnieGramms (The REGENTONIANS
&

AWOGANS) Extravaganza 2023
Sat 17th June 2023 - 6:00 PM – 2:00AM
Wandsworth Town Hall , SW18 2PU
DESCRIPTION
Join Annie Walsh Memorial School Old Girls' Association and Sierra Leone Grammar School Old Boys' Association as we combine our efforts in a night of music, dance, great food and friendship – Anniegramms Extravaganza! Celebrate the combined talents of both these great West African institutions as we launch our Each One Teach One campaign.
About Each One Teach One
In Sierra Leone, making good on the brightest potential is a massive challenge. A ten-year civil war and continuing global inequality means that across West Africa, the great talents of tomorrow are at a disadvantage. Digital outreach can reduce that disadvantage. World class learning is only a click away and for the thousands of pupils across Sierra Leone. Digital tools and online classrooms can bridge the divide with more equipped, affluent education frameworks on other continents.
Each One, Teach One utilises the invaluable ICT facilities at SLGS to push for change, driving our mission statement: No child left behind. We're offering mentorships to those without tech access, launching ICT Summer Schools for 100 pupils nominated from schools across the country. This will develop vital STEM skills across Sierra Leone's pupil population, pushing female education in traditionally male-dominated areas such as coding and enhancing the region's digital literacy. We aim to embed ICT and STEM skills from the beginning of children's learning journeys and believe the initiatives put in place now will have ramifications felt for generations in Sierra Leone and West Africa.
It starts here. The campaign launches on 17 June in London, at Wandsworth Town Hall, with an alumni event – AnnieGramms – to find donors willing and able to support and drive this campaign – to be part of lasting change in the region. And once we've filled you in on exactly what Each One, Teach One is delivering, then we party!
AnnieGramms will boast a concert with live musicians, followed by a late-into-the-night party with DJs and only the best tunes. So book your place, or you're truly missing out!
LOCATION
Wandsworth Town Hall , SW18 2PU
SLGS themed
charity e-cards
are available for use now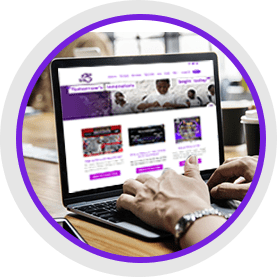 Why not try this now and
then forward to all your
contacts.