The Cause
Empowering tomorrow's graduates today
Youth illiteracy in Sierra Leone is 67.57% whilst the global average for 15 – 24 year olds is 91% (UNESCO, 2015). This sad disparity is one of the driving forces behind our mission to usher SLGS into a STEM capable environment that will stretch our graduates to be equipped in solving the challenges of tomorrow's world.
Back to Basics
Science Labs – No electricity. No running water. Broken windows. Leaking roof. Limited facilities – this is not an environment fit for the future visions of our scientists of tomorrow.
This is the reality of our Science building. We need to renovate and re-equip the Biology, Chemistry and Physics Labs – enabling and enriching our pupils to thrive in their science practicals.
Computer Labs – not enough PC's to allow each pupil to have their own PC during computer class, outdated  software, no network, limited Internet.
With our Legacy Builders we have achieved the following but there is more to be done!
The Future is STEM
STEM stands for Science, Technology,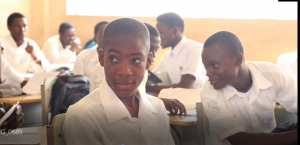 Engineering and Mathematics.
They are not just four individual subjects; together they create an important skillset that can equip our future generations in collaborating to solve some of the world's biggest challenges.
Scientists: Independent and critical thinkers to hypothesise – experiment – analyse – evaluate to solve a problem
Technology: Innovating to make every-day tasks more effective by providing facilities
Engineers: Problem solvers that work on executing solutions for worldwide challenges
Mathematics: Simply quantify the use of data to understand how physics dictates the world around us.
Creating a STEM capable environment will ensure our graduates catch up and keep up with the evolving pace of technological advances today.
How:
STEM activities provide hands-on and minds-on lessons for the students. Making maths and science both fun and interesting and helps the students to do much more than just learn.Students gain 21st century learning skills in the STEM Lab by engaging in projects that develop:Communication
Collaboration
Critical thinking
Problem solving
Information literacy
Adaptability
Skills are developed in a project-based learning environment where students apply technology to projects of their own design. A curriculum that is STEM based has real-life situations to help the students learn.
Why:
Research from https://www.stem.org.uk shows students involved in a STEM Club have the potential to improve their confidence, learning and understanding of STEM subjects, which increases skill sets and levels of attainment.
Through their enjoyment and enthusiasm in taking part in Club activities, students can challenge their abilities and learn more about STEM subjects and the influence they can have on their life and the world around them.
Participation in a STEM Club helps students realise that STEM subjects can be for them, increasing their confidence and overall employability skills.
Bridging the Gap
STEM education will encourage students to harness the essential transferable skills behind each subject to foster a collaborative mindset.
Creating a STEM capable environment will ensure our graduates catch up and keep up with the evolving pace of technological advances today.
Our pilot 'Innovation' programme for this academic year 2020/21 is currently running.
This pilot aims to provide our 1100 students the opportunity to develop STEM skills.