SUPPORT THE RENOVATION OF THE ICT LAB TO ENABLE 21ST CENTURY SKILLS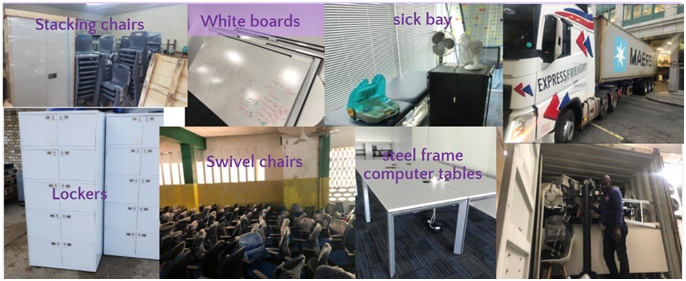 What we've achieved so far
We have worked together with our Principal, Rev. Canon Leonard Ken Davies to transform the School's ICT capability. Our ICT strategy is to ensure the School has the tools to provide the pupils with 21st century skills. To achieve this, we developed a plan of action to reinforce the foundational components required to make more use of ICT at the School.
We worked with a number of organizations who gave us used equipment that we refurbished and repurposed for the ICT labs. Some of the equipment we received were desks, chairs, whiteboards, desktop computers, monitors, internet broadband connectivity etc. Members of the alumni community also gave their time, free of charge, to fix the computers and set up the school wide campus network.
The alumni Associations collectively funded the cost of packing, shipping and clearing of these equipment to the School.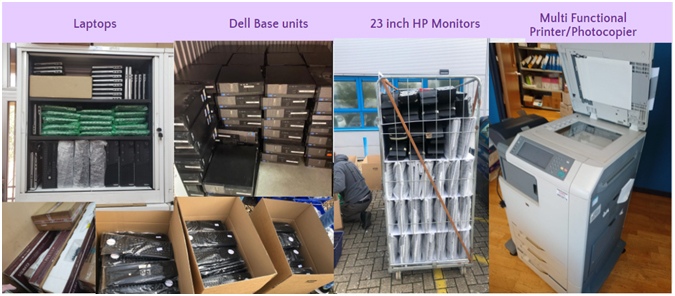 Some of the contributions and changes we have brought to the School are as follows:
● Installation of solar panels to power our ICT equipment on green energy. This will ensure that some of the ICT equipment is constantly powered
● Established Digital partnerships – We are proud to be the first CISCO Academy School in Freetown. This ensures our pupils can access the latest CISCO curriculum
● CISCO instructor training has also been made available to a good number of our ICT teachers
● Computing using Microbits is now part of the Junior Secondary School curriculum
● Donated computers with Windows 10, Microsoft Office, Microsoft Office 2019, Anti-Virus, Coding applications, Autocad for technical drawings and graphic design tools already installed
● Created an IT Network which ensures that the School now enjoys high-speed broadband. We have also enabled Wi-Fi access on a class block with a number of wired network points in key locations
● To ensure that the students learn in comfort, we have provided swivel chairs and desks for the computer labs
● Provided a range of online resources to ensure the pupils gain core ICT skills as part of everyday Schooling
● Aside from the CISCO curriculum, we have adopted the WAEC ICT School curriculum used in Nigeria to create a unique opportunity for our students to gain globally competitive digital skills
● Enabled each child to have access to their own computer during ICT class
● CCTV & Burglar alarm installed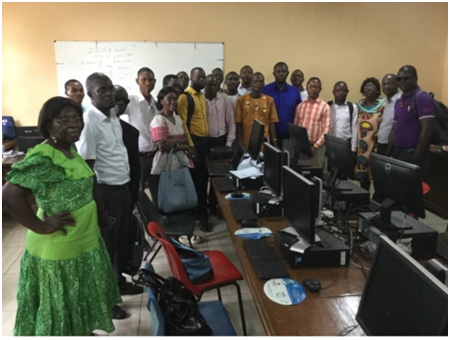 In all this, the teachers are not left out, we continually offer them free digital literacy training as well as basic computing training. They have also been provided with Laptops to encourage the practical use of their training to incorporate digital content to student lessons. We also matched the School's ICT teachers with 3 teachers in the UK, who are also old boys of the School and have experience teaching the same ICT subjects, to share resources and to upscale these teachers locally.

What SLGS OBA wants to achieve (The Next Phase)
The next phase of the ICT action plan which we hope to complete by May 2021 is to:
● Extend Wi-Fi and broadband connectivity across the whole School campus to ensure all classes can be enriched with digital content
● We hope to have a designated teachers computer lab to encourage personal development goals
● Install projectors and air conditioners into the computer labs
● Employ a dedicated ICT technician to support the equipment
● Fund a minimum of 3 teachers on a PC maintenance (A+) instructor course to teach our pupils
● Fund a minimum of 6 teachers to do courses on STEM experiments using the Microbit and Lego EV3 kits
● Implement School management systems to automate and digitise administrative processes
● Launch Office 365 email system for all staff
All in all, our aim is to provide the best atmosphere for learning and teaching.
Why you should help
Jesse Richards, Chairman of the UK Old Boys' Associations once said; "Some may think the Tech industry is desperately trying to hire programmers in California but every industry is trying to hire Tech programmers everywhere!" Therefore, it behooves us to create opportunities for our pupils to develop the much needed skills to give them a competitive edge in future.
The support you give today, can go a long way to help a child grow to become a world changer. Also, giving back to SLGS is a way to show gratitude for the contribution it has made to your life as an alumnus. You can support by either providing expertise or financial help. For further information you are welcome to engage us via stemcampaign@slgs.edu.sl or visit the School and talk to the team.
To foster transparency, we will provide constant updates on our website on the progress of this campaign so be rest assured that your donation will serve its purpose. Click here to donate.
Appreciation
We would like to thank all of the SLGS Alumni chapters – Old Boys' Union Sierra Leone, USA South East, USA Washington DC Metro, USA West Coast, USANorth East, Old Boys' Association UK, the School administration & School board as well as the entire PTA for their collaboration and effort thus far.
Also, we are grateful to the following external organisations who donated services, discounted furniture and equipment: California State University, Northridge, Centaur Media, Knowledge Network Solutions,, Manor River Freight Services and Digital Pipeline. To Afcom SL and CeeDee Investment Company Ltd (CDi Technics) who provided the internet connectivity we say a big thank you.
We could not have achieved our goal without your immense contributions and support. Thank you!